sns BSchool
sns business school central library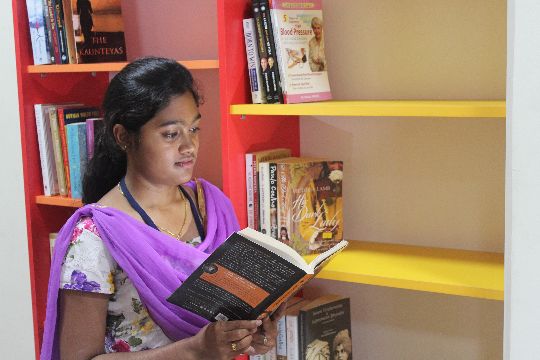 the treasure house

The Central Library of our college is housed in the ground floor of the Main Block in an area of 972 Sq.ft with 150 Seating Capacity. The objective is to provide learning/information resources and access to read or print e-resources to support the overall institutional community. The library is equipped with the latest books, journals in the field of Business and Management and daily Newspapers/Magazines. To enhance the user satisfaction, the library subscribes to DELNET on line Resources, including 1795 periodicals Indexed in abstract and 969 periodicals in full text. All the library resources can be accessible through bar coded technology. The Library is fully computerized for all its housekeeping operations using in house development library software that is well maintained and updated regularly. State-of-the-art technology is used for the library functioning and services.
Central Library
 Timings and membership
Working Days - 8:30 am to 6:30 pm
2nd and 4th Saturdays - 8:30 am to 1:00 pm
The groundwork for the computerization of the library was started with the manual entry of the details of the books. These details were fed in the data entry terminals and stored. The automation work gained momentum with accuracy by the provision of assistance from commercial software of CAPMPUS i LIB. The library has its own sub LAN consisting of 7 terminals, one server to support library software, OPAC services and other in-house computerization activities are done within the library. Web Based OPAC has been created for all the resources available in the library. Data can be accessed from various search points. Circulation activities were computerized providing statistics on the issue and return of books. Introduction of barcode technology helped to achieve maximum efficiency in providing accuracy, speed and reliability in issue and return procedure.